Santa Presents Veteran Gift of Wheels
A veteran from Omaha will received an early Christmas gift when Santa awarded him keys to a 2008 Honda Accord at a ceremony on Dec. 6.
Howard Perry, a Marine veteran and UNO student, was chosen by the Nebraska VFW to receive a Recycled Rides™ from CARSTAR Auto Body.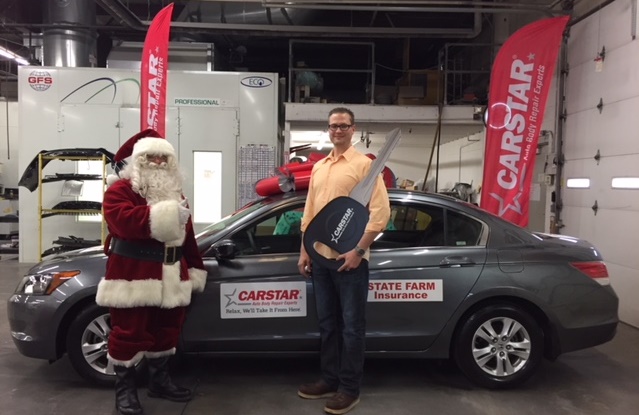 Perry said the gift of the Honda is a real blessing for his family which includes three children under six years. The marine veteran is majoring in cyber security at UNO and is employed at an internship at an Omaha business.
Perry's current vehicle is unsafe due to mechanical issues, miles and age. The veteran has been borrowing cars from friends to get to school and work for the last several months. "Not having a car places me in a situation where my job and school are on the line," said Perry. "This situation is a bad one to be in with three small children."
Recycled Rides™ is a community service program of the National Auto Body Council where body shops repair and donate vehicles to agencies and families in need.
The Honda Accord was donated by State Farm Insurance. Technicians at Northwest CARSTAR volunteered their skills to repair and refurbish the Honda.
The vehicle had been totaled due to a collision but had very low mileage. "When State Farm offered this car I thought it was a perfect fit for the Recycled Rides™ program," said Trevor Parson, general manager for Northwest CARSTAR. "It was a relative easy fix and a great way to give back to veterans and show them appreciation."
"We are pleased to work with CARSTAR to help make life go right for a local family," said Jocelyn Hope, Omaha agency sales leader for State Farm, "and to see one of our cars restored for a military veteran is something very special."
Parson said many other businesses and organizations donated to make this gift possible. Vendors that provided donations of parts and services were Honda Cars of Bellevue, LKQ, Keystone, 3Bs Towing, Auto Tech, Auto Zone, Nebraska Frame and Alignment and Omaha Car Care.
CARSTAR partnered with the Nebraska VFW to find a recipient. Interested veterans were required to fill out an application and go thru an interview process. The key presentation ceremony also featured the Air Force ROTC Color Guard from Detachment 470 from UNO.
The Omaha CARSTAR locations take turns repairing salvage vehicles each year for the Recycled Rides™ program. This is the first year CARSTAR has partnered with the Nebraska VFW.
Recycled Rides™ is a community service program of the National Auto Body Council.
About Northwest CARSTAR: This CARSTAR location is at 3304 No 120th St in Omaha. NE. There are four independently owned CARSTAR locations in Omaha and Lincoln. nebraskacarstar.com
About Recycled Rides™: Recycled Rides™ is a unique program in which insurers, collision repairers, paint suppliers, parts vendors and others collaborate to repair and donate vehicles to deserving individuals and service organizations in local communities throughout the country. Close to 2,000 vehicles have been donated through the National Auto Body Council's Recycled Rides™ program since its inception in 2007. NABC estimates nearly $25 million worth of vehicles has been donated through Recycled Rides™.
NABC ~ Changing the image of our industry, one consumer at a time.
Two Recycled Rides Awardedin Omaha

CARSTAR partnered with State Farm Insurance on two Recycled Rides™projects. Both were salvage vehicles donated by State Farm.

A 2007 Chrysler Town & Country was donated during the Salvation Army's annual "Tree of Lights" Kickoff onNov 10.The mini van will be used by their Chaplain to serve families facing a crisis. The van was repaired by technicians atDon & Ron's CARSTAR.

A 2008 Honda Accord was donated to a Marine Veteran on December 6th. Santa Claus handed the keys to him. The recipient is going to UNO and has 3 small children. The vehicle was repaired by technicians atNorthwest CARSTAR.

Thank you to the following businesses and organizations who provided donations of parts and services for the two Recycled Rides™cars.
BAXTER

CHRYSLER

Honda Cars

of Bellevue

3B's Towing

Auto Tech

Auto Zone

Charity Cars

J.D. Casey
Paint

National Auto
Body Council

Radiator
Depot

Young's
Towing